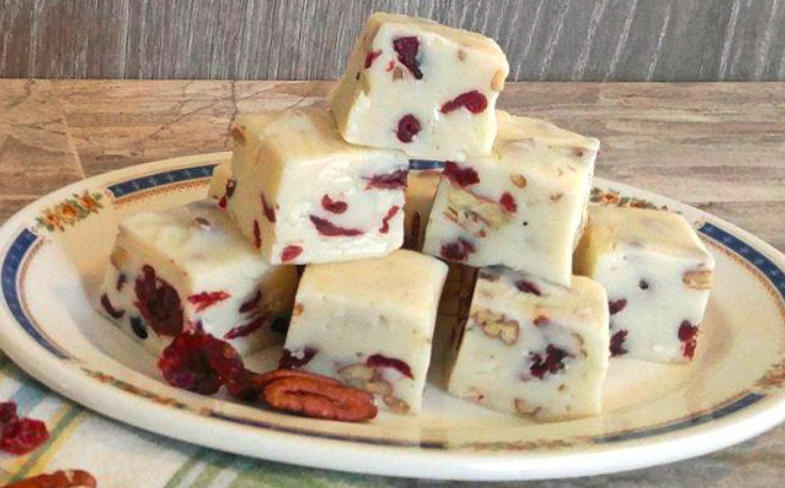 I don't know about you guys and gals but if you're anything like me then you're probably a bit of a nut for fudge.
I love making fudge and I love eating fudge. I used to purchase fudge around the holidays for a long time until I discovered that I could easily make this decadent candy on my own. This blueberry cheesecake fudge might sound a tad difficult to whip up but trust me when I tell you that it is not. It's quite simple and makes a lovely holiday gift for family and friends. I am all for giving homemade gifts and people love getting treats that they cane at.
I've made all types of fudge using this very method as the cheesecake flavors seem to be a favorite amongst the masses. I've used blueberries, cranberries, strawberries, and even kiwi fruit. Make sure the fruit you use is dried and not fresh as this keeps the moisture level down within the fudge.
You don't want your fudge to be gloppy. Here is a bit of a warning for you when you make this fudge: Put a piece of duct tape over your mouth so you don't eat it all during the cooking process lol!
Fudge is such a fun candy to make and gives you a real sense of accomplishment to see that you created a candy with your own two hands. This blueberry cheesecake fudge is not overly hard to make at all. One thing that I did when making this fudge was purchased fresh blueberries from the farmer's market and dry them in my dehydrator. I then used the dried berries in the fudge. It came out tasting marvelous!
Click 'Next Page (>)' to keep reading and don't forget to SHARE with your Facebook friends