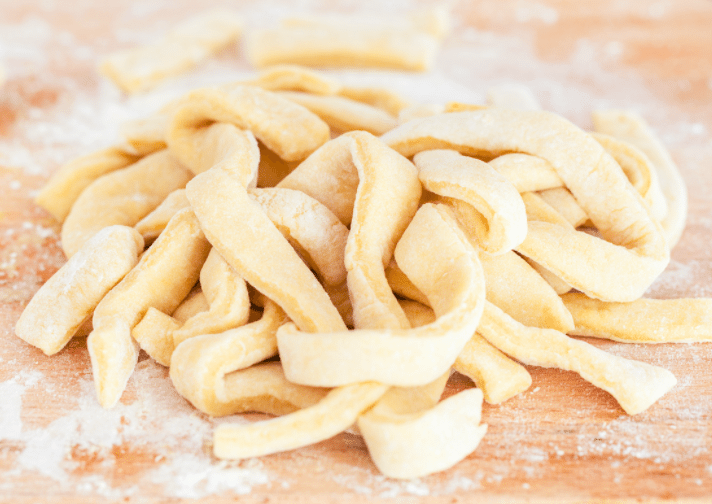 Want to make a lasting impression? Charm your way into anyone's heart with homemade egg noodles. Made completely with your hands, rolling pin, and a knife, a fresh batch of homemade egg noodles can be prepared under 15 minutes and without any special equipment.
HOMEMADE EGG NOODLES
This is your basic old-fashioned recipe for egg noodles, just like grandma used to make. Consider trying this egg noodle recipe next time you prepare your favorite soup or stew. Don't forget that fresh pasta cooks much quicker than store bought dried pasta!
You may use a dough hook attachment on your electric mixer to make homemade egg noodles, but there is something so very charming about using your hands. Plus it's easy!
HOW TO MAKE HOMEMADE NOODLES
Mix together the flour and salt with clean fingers on the work surface.
Create a well and add the yolks and egg. Continuing with your fingers, work the egg into the dough.
Add the water about a teaspoon at a time and work the dough until it holds together. Roll the dough to the desired thickness and cut into the desired width. (You can also let the dough rest for a bit after rolling. It will puff up slightly.) Collect any leftover scraps and re-roll and cut until all the dough has been used.
To cook, drop noodles into boiling water and boil until fully cooked, about 2 to 4 minutes, depending on how thick your noodles are. Always test first and adjust the time as necessary.
If you do not want to use your noodles immediately, carefully lay them out to dry. Cooling racks work well for this. Let dry for a couple hours then package in an airtight container and store in a cool place for up to a week.
Please continue to Next Page (>) for the full list of ingredients and complete cooking instructions.
Source : iamhomesteader.com