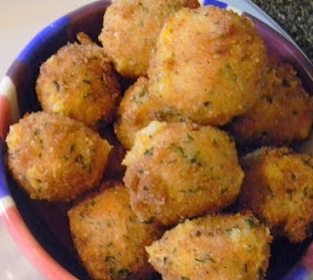 A couple of weekends ago we ate at a popular chain restaurant  in Salt Lake City, Utah.  After a canceled flight and spending half my morning talking with the airlines we decided to get our grub on at this chain restaurant.  The menu of this restaurant is literally a book with front and back pages.  I'm not sure why I actually go page by page when I know what I want before I even sit down at the table.  I always get the chicken salad sandwich with a half salad and soup.  Not sure why this is the lunch combo when it literally can feed 2-3 people.  However, I was so hungry on this trip that I decided to check out the small bites on the menu.  Loaded tater tots caught my attention I proceeded to tell myself that I had to have them.
One week later and I am still thinking about those loaded tots.  So much that I decided to make them my own way to satisfy any cravings that may occur while at home.  Loaded potato bites were born.  The best part is that these babies only have 5 ingredients in them.
USE THE BUTTON NEXT PAGE LINK BELOW (>) FOR THE RECIPE AND INGREDIENTS.