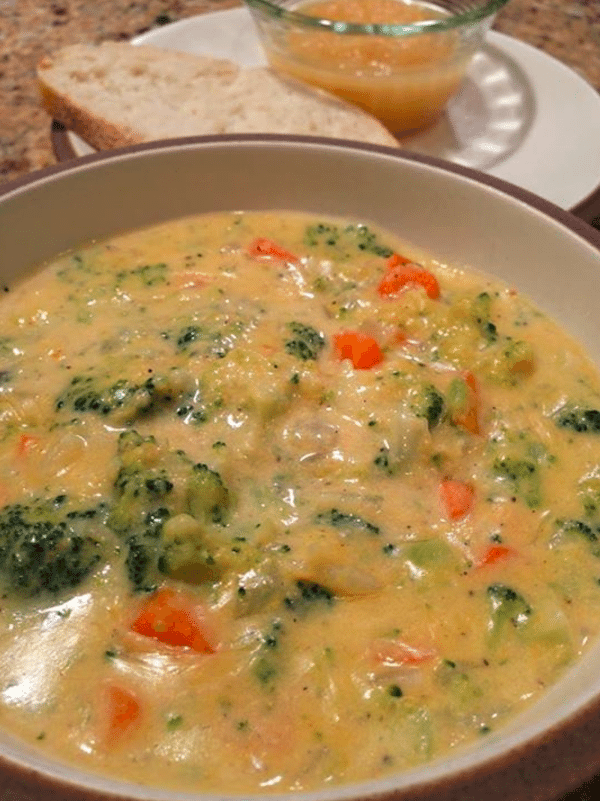 If you've never had the Broccoli Cheese Soup from Panera you're missing out. This recipe tastes just like it! 
I know this recipe has made the rounds around the blogs but my job is to share recipes that I really love and this is one of them.
The reason I know that this recipe tastes just like the delicious Broccoli Cheddar soup at Panera is because I ate this at least once a week during my last pregnancy.
It was the ONLY thing that I looked forward to eating and I'm sure the peeps at Panera knew me by name. They serve it with a warm crusty baguette. Oh my goodness.
It almost makes me want to get pregnant again.
I once was in charge of making soup for 250 women. Guess which soup went first? Nope. Not the chicken noodle.
Yes, you guessed it. The Broccoli Cheddar soup. I mean who doesn't like broccoli and cheese?
You'll need about 3 cups of broccoli chopped into bite sized pieces. You're supposed to julienne a carrot. I cook a lot and I do not have the patience to do that.
They sell "matchstick" carrots in the produce section. Save yourself some sanity and time and just buy those.
It's important to use sharp cheese here as it gives it more flavor than a milder cheese.
Then eat a couple of bowls of this delicious broccoli cheddar soup. After all, it is the first day of fall today.
Please continue to Next Page (>) for the full list of ingredients and complete cooking instructions.