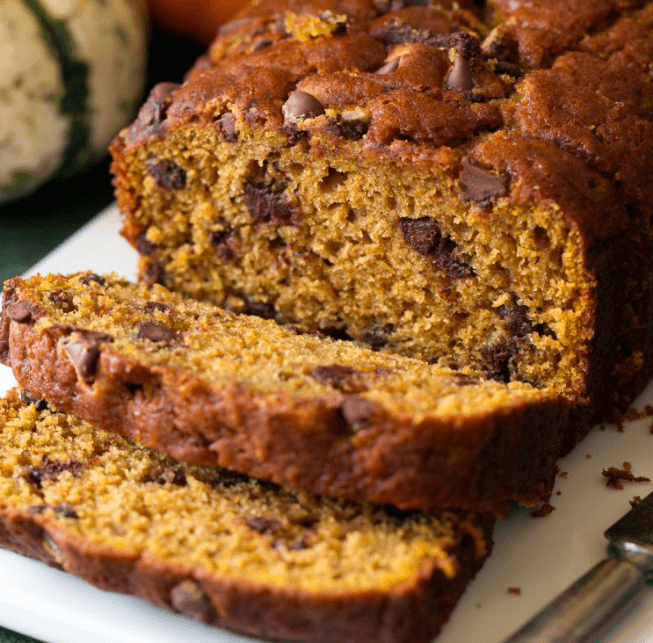 This Pumpkin Chocolate Chip Bread is an absolute fall must! It's brimming with that pumpkin and spice flavor we crave, it has the perfect amount of chocolate chips, and it's amazingly moist and tender.
This is how you welcome fall. And in my opinion this is the perfect loaf of Pumpkin Chocolate Chip Bread!
Let's just say I've tested my fair share of pumpkin bread loaves throughout my life, and this is my favorite!
It has a blend of oil and butter, oil for moisture because it creates a more moist crumb than butter does but then we need some butter for flavor obviously :).
Then there's a fair amount of cinnamon here and just enough nutmeg, ginger and cloves. Because pumpkin bread wouldn't be pumpkin bread without those autumn spices!
And I like the blend of white sugar and brown sugar for flavor. A hint of molasses with pumpkin is always a good thing (the molasses being that from the brown sugar).
One thing I do recommend if at all possible is to make this bread the day before you plan on serving it.
Pumpkin chocolate chip bread is even better the second day. The flavor, the texture, the moisture – just everything.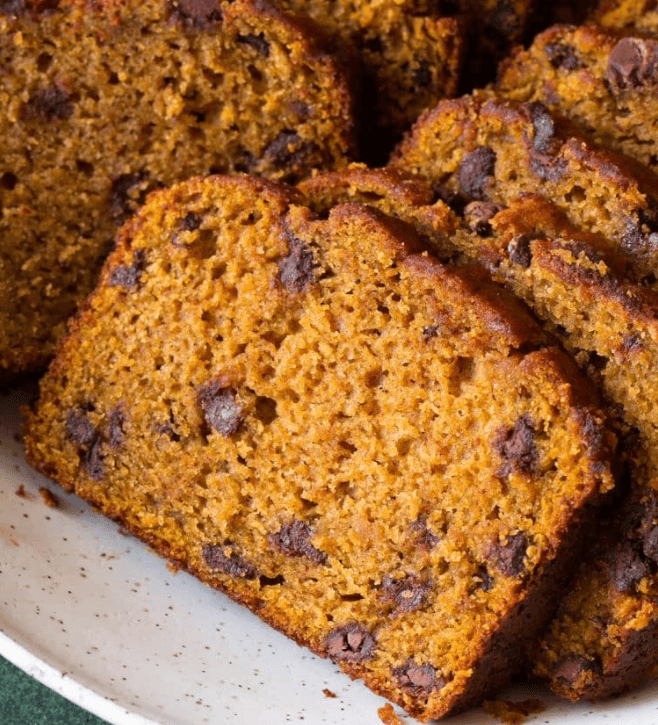 Day two is where it's at. It's sinking your teeth into pure fall bliss I tell you.
But if you can't wait I understand. You already had to smell it while baking in the oven for an hour (yummmm that scent is heaven!).
But at least do let the loaf cool before eating otherwise when you cut into it sort of just breaks apart.
And if you are like me and love pumpkin chocolate chip bread then feel free to double the recipe and bake two loaves.
One to keep hidden all for yourself and one for the rest of your family :).
It's the finer things in life.
continue to Next Page (>) for the full list of ingredients and complete cooking instructions