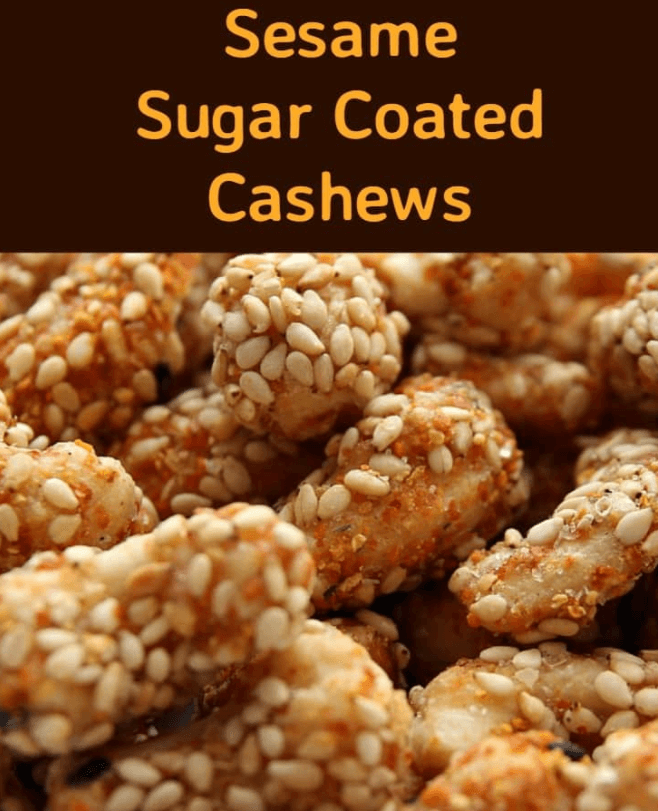 THESE ARE DELICIOUS SERVED WARM! THE SUGAR COATING ALONG WITH THE SESAME AND OTHER SPICES MAKES FOR A LOVELY FLAVOR. RECIPE ALSO HAS OTHER FLAVOR SUGGESTIONS FOR YOU TO TRY SO MAKE UP A BATCH SOON!
Sesame Sugar Coated Cashews. I've been making variations of my recipe for a long time, switching the cashews for walnuts, pecans, peanuts, really, you can use whatever nuts you enjoy. The combination of the sweetness from the sugar, together with the salty and spicy really is quite lovely! You can be very flexible with the quantities of spices, so if you wanted a hotter version, you can simply add more cayenne pepper, or indeed, leave it out all together. Feel free to play around and experiment with different flavors, such as adding some ground coriander / cilantro, or perhaps some curry powder. Maybe you want to have a more Christmas flavor and aroma, so go for cinnamon, nutmeg, ground cloves and so on. Really, the sky's the limit! The addition of the sesame seeds gives it that little extra outside crunch and also the extra taste of sesame is so yummy! I have also tried this same recipe using black smoked sesame seeds too. That was also nice, but a warning when using the smoked variety, use only a QUARTER of the quantity of sesame seeds listed as they are very over powering!
If you're having a party or thinking of some snack ideas for Christmas, perhaps you'd like to make a selection of nuts, so why not also try our Maple Roasted Pecans or our Honey Glazed Walnuts.
Serve these once they have cooled enough to touch, and enjoy with a nice glass of wine or a beer. You could make these ahead and store in an air tight container, and then simply warm through in the oven when you want to serve, say for a party. The extra trouble of warming them a little does make a difference and so worth it!
So please do enjoy our Sesame Sugar Coated Cashew Nuts and experiment with the flavors and make a note of what you've used because we'd love to hear from you in the comments below what invention you came up with! Have fun and enjoy!
Please continue to Next Page (>) for the full list of ingredients and complete cooking instructions.
Source : lovefoodies.com