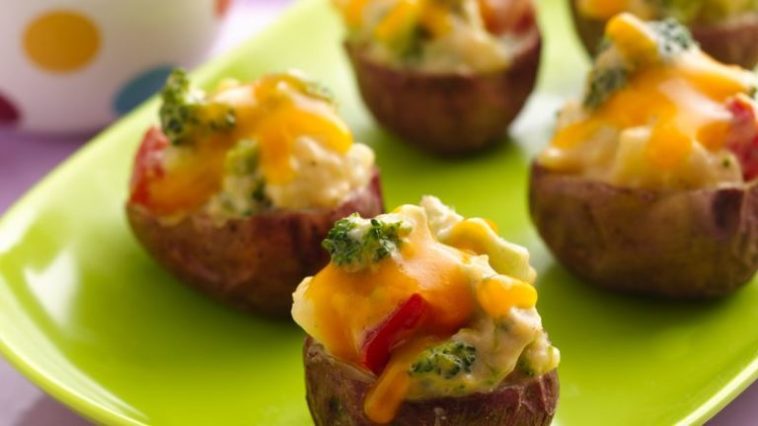 Ingredients
12 small red potatoes (1 to 1 1/4 inch diameter)
1 bag (12 oz) frozen broccoli & cheese sauce
1 cup ranch dressing
1/4 teaspoon salt
1/8 teaspoon black pepper
1/4 cup chopped plum (Roma) tomato
1 cup shredded Cheddar cheese (4 oz)
Steps
1 Heat oven to 350°F. Place potatoes in ungreased 15x10x1-inch pan. Bake 40 to 45 minutes or until tender. Cool until cool enough to handle, about 10 minutes.
2 Meanwhile, cook broccoli as directed on bag.
3 Cut potatoes in half. With melon baller, scoop out insides of potatoes into medium bowl, leaving 1/4 inch lining of potato in skins. To potatoes in bowl, add broccoli, 1/4 cup of the ranch dressing, the salt and pepper. Mix well, breaking up potatoes. Stir in tomato.
4 Fill each potato shell with about 2 tablespoons potato mixture. Place on ungreased 15x10x1-inch pan. Sprinkle with Cheddar cheese.
5 Bake 15 to 20 minutes or until cheese is melted. Serve with remaining 3/4 cup ranch dressing.