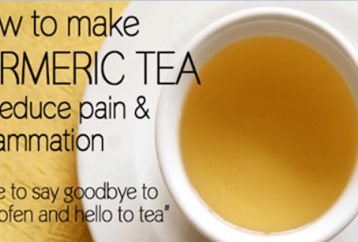 Known as the 'Golden Spice", Turmeric has been used since forever. This spice has a high nutritional profile, offering a wide range of health benefits.
Besides being used in cooking, for many years this miraculous spice has been used as an effective remedy, treating a number of health problems. Just include it in your diet regularly, and you will experience its incredible powers.
Health Benefits Of Turmeric
Turmeric possesses powerful anti-inflammatory properties and is extremely effective in the treatment of arthritis, Crohn's disease, ulcerative colitis, etc.
It has been shown that turmeric can provide the same effects like Motrin, hydrocortisone, and phenylbutazone. Turmeric is also known for its antioxidant properties.
It can neutralize free radicals which contribute to the development of dementia, Alzheimer's, Parkinson's and even cancer.
Here we have more incredible health benefits of Turmeric:
Curcumin, the active compound in turmeric, has powerful antioxidant and anti-inflammatory properties which can stimulate body's antioxidant enzymes and neutralize free radicals
It has the ability to boost BDNF levels, a brain hormone that stimulates the growth of new neurons, thus fighting degenerative processes in the body
It has a positive effect on some factors that take part in heart disease. It can improve endothelium function as well
It was shown that curcumin can improve the pathological process of Alzheimer's
It can treat symptoms of arthritis
Curcumin has the ability to cause some changes on molecular levels that help treat and prevent cancer
It can provide the same effects as Prozac in relieving the symptoms of depression
It prevents aging and fights age-related chronic diseases
5 Turmeric Beverage Recipes
We will present a list of Turmeric recipes that will reduce pain and inflammation
1. Golden Milk
Needed Ingredients:
2 cups of milk, preferably coconut or homemade nut milk
1 teaspoon dried ginger powder
1 teaspoon dried turmeric powder
A pinch of black pepper
Honey, to taste
Directions:
You should heat the milk and once it starts steaming, add the spices. Simmer for a couple of minutes, and let it cool for 10 minutes. Enjoy!
2. Turmeric Smoothie
Needed Ingredients:
1 cup frozen mango
½ banana
1 tablespoon of coconut oil
1 teaspoon of turmeric powder
1 teaspoon of chia seeds
½ teaspoon of cinnamon
Put all the ingredients in a blender and blend. Consume this for breakfast or as snack.
Go to Next page (>) to get more Ways .