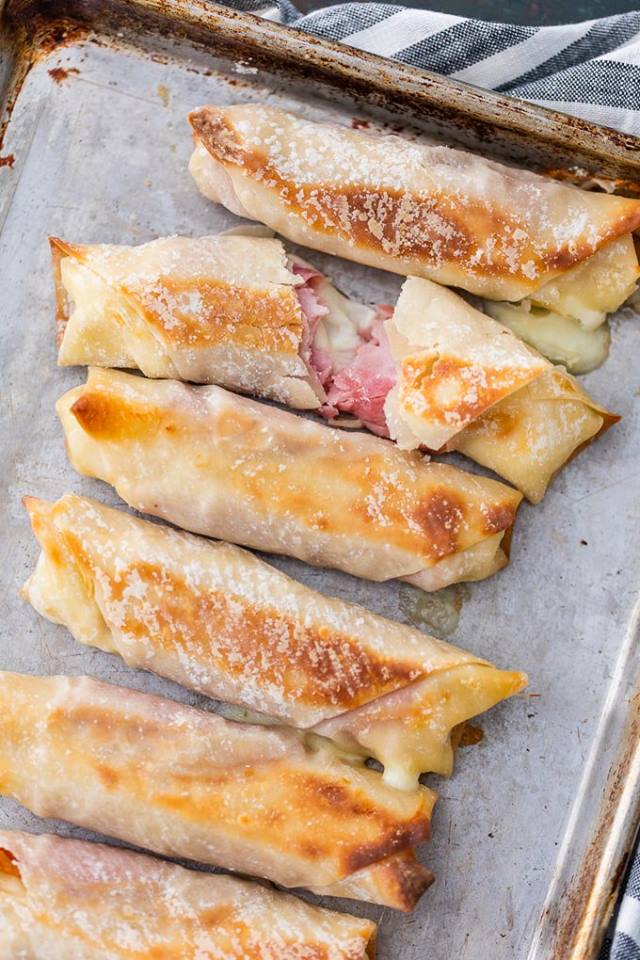 These BAKED HAM AND CHEESE MOZZARELLA STICKS are a healthier and delicious snack you can feel great about feeding your family. So easy and yum!
Obviously Henry isn't old enough yet (just 9 months) to eat food like this, but I have kid friendly food on the mind lately. I want to get recipes under my belt that will be perfect for him when he's a bit older. I've been scouring cookbooks for kids and getting so many fun ideas.
I plan to post a lot more healthy(ish) kid friendly recipes so I hope you guys are on board for that! I want to serve him foods that we will all enjoy, not just food for babies. Like these Baked Ham and Cheese Mozzarella Sticks. We are BIG fans of cheese sticks around here but I don't really want to be feeding henry a bunch of fried foods. This is the best of both worlds. Ease, flavor, melty cheese, and baked to perfection! Winner!
If Henry really is my son, he's going to LOVE LOVE LOVE cheese. Any kind, any form, any meal. All day every day. I love that mozzarella sticks are an easy and relatively way for kids and adults to get their cheese fix. Wrapped in ham and baked into an eggroll is an amazing way to eat melty cheese. We are big fans.
These Baked Ham and Cheese Mozzarella Sticks would be a great way to ring in the new year, celebrate the Super Bowl, or just have after school snacks at home. It's a great way to feel good about the snacks you're giving your family. I'm not saying they're healthy, but they are a healthier twist on a favorite. Gotta indulge once in a while!
Stay tuned for even more kid friendly food! If you have any requests please leave them below! I'm looking forward to brainstorming. Hope you enjoy :
Click 'Next Page (>)' to keep reading and don't forget to SHARE with your Facebook friends
Source: www.thecookierookie.com