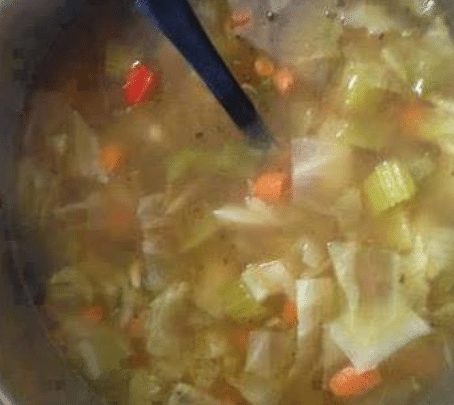 what is the 7-Day Diet (Cabbage Soup Diet)?
OK so let's talk about the 7-day cabbage soup diet! It's an old diet that has been around for YEARS and revised over and over again. You are likely to find several different versions online. Lately, these 7-day diets have become really popular. Even Dr. Oz has one.
How Do You Do The 7 Day Diet?
On the 7-day diet, you follow a certain eating plan everyday. Along with eating these specific foods, you are allowed to have cabbage soup aka wonder soup aka weight loss soup aka miracle soup aka weight watcher soup (so many names for this soup.) whenever you'd like.
This is what drew me to the 7-day cabbage soup diet because I love that I can eat this soup in unlimited quantities. I HATE being hungry and I will not stick to any kind of diet if I'm hungry. Point. Blank. Period. Don't forget you MUST drink 8 glasses of water each day. My results vary if I slack on water, but 7-10 pounds is what I usually lose.
The Cabbage Soup Recipe ( Wonder Soup)
Now about this weight loss Cabbage Soup (Wonder Soup), most websites featuring this diet says you should boil the vegetables in water, uh…no, ma'am!! I've always used chicken broth or vegetable broth with seasoned canned tomatoes and it has never hindered my weight loss that I know of.
There is NO WAY I would be eating this soup every day if I made it with water. Yuck! Throughout the diet, I also use salt (very lightly), pepper, lots of herbs & seasonings, olive oil, and a tad of butter on potato day. I also add 0-5 calorie flavorings to my water to make sure I get in all my water if needed. These changes have never affected my results.
Please continue to Next Page (>) for the full list of ingredients and complete cooking instructions.