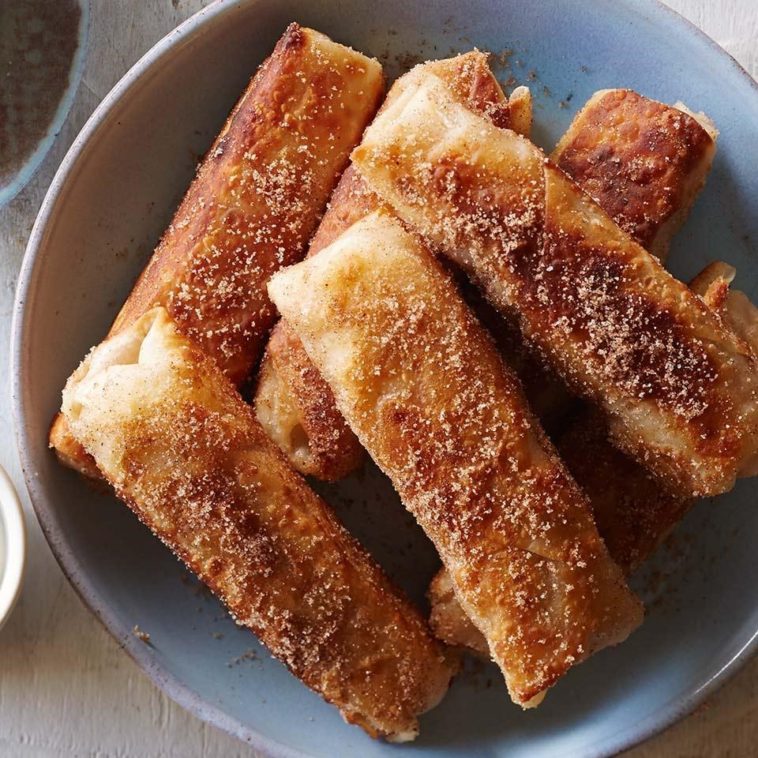 Ingredients:
3 – 4 – apples peeled and chopped
1/3 – cup granulated sugar
2 – tablespoons brown sugar
2 – teaspoon cinnamon
1- tablespoon cornstarch
1/4 – cup water
1/2 – teaspoon vanilla extract
2 – tablespoon butter
10 – 12 – egg roll wrappers
Canola or vegetable oil for frying
cinnamon sugar
Caramel Dip
Directions:
Peel and dice the apples small and place in a medium size pot. In a small bowl combine the sugar, brown sugar, cinnamon, and corn starch. Sprinkle over apples; add water, vanilla, and dot with butter.
Cover and bring mixture to a slow boil, turn the heat down to low and simmer until the apples are tender and the mixture starts to thicken up.
Remove from heat and set aside to slightly cool. Lay one egg roll wrapper on a clean surface or cutting board. Place 2 -3 tablespoons of apple filling onto each egg roll wrapper.
Fold bottom corner over filling and then fold side corners and roll (use the back of the package for a guide).
Brush a bit of water on the top corner and sides to seal the wrapper before completely rolling up. Continue with remaining filling and wrappers.
In a large skillet preheat the oil to 350 degrees. Place the egg rolls flap side down and fry a few at a time turning occasionally until golden brown. Drain on paper towels.
Sprinkle egg rolls with a bit of cinnamon sugar and serve with caramel dipping sauce.
To make the caramel dip easier to drizzle first, place the caramel dip in a microwave safe dish and heat on the defrost setting for 20 – 30 seconds. Drizzle caramel topping over egg rolls before serving or use as a dipping sauce.
Cook's Note: These egg rolls can also be baked instead of fried. Place egg rolls on a greased baking sheet, or use a parchment paper. Bake the egg rolls at 375 degrees for 20-25 minutes until golden brown. Brush on a bit of melted butter or use a butter spray and sprinkle with cinnamon sugar. Serve alone or with caramel dipping sauce.

Recipe yields: 10 – 12 Egg Rolls depending on how much filling is used