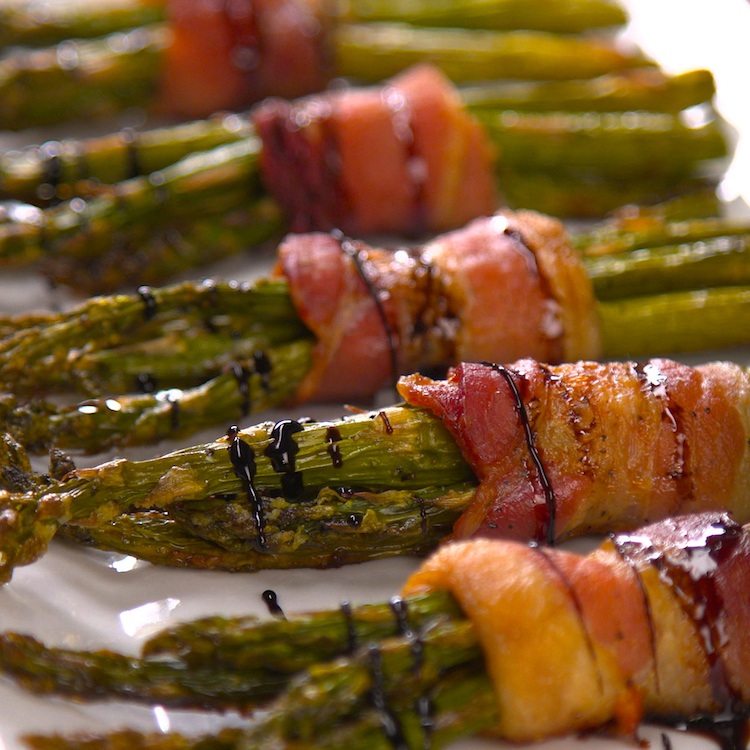 Aren't these artful bacon-wrapped asparagus bundles the kind of thing you'd expect to see going around on a tray at a wedding? They're so elegant — you're the only one who needs to know how simple they are to put together. Just wrap fresh green asparagus spears in bacon, roast the bundles in the oven until they're crispy, then drizzle on a delicious honey balsamic glaze.
Bacon-Wrapped Asparagus
Easy elegant appetizer to make your next dinner party extra fancy: crispy roasted asparagus spears bundled in bacon and drizzled with honey balsamic glaze.
Just bake 'em for 20 minutes in the oven until the tops are caramelized, the bacon is crisp, and the stalks are tender with just the right amount of snap. In the meantime, you'll whip up the easiest 2-ingredient honey balsamic glaze, which perfectly complements the bacon-wrapped asparagus' smoky flavors.
Having this party bite in your recipe repertoire will make your entertaining that much fancier. It's not often that such a simple dish gets so many oohs and aahs.
Click 'Next Page (>)' to keep reading and don't forget to SHARE with your Facebook friends