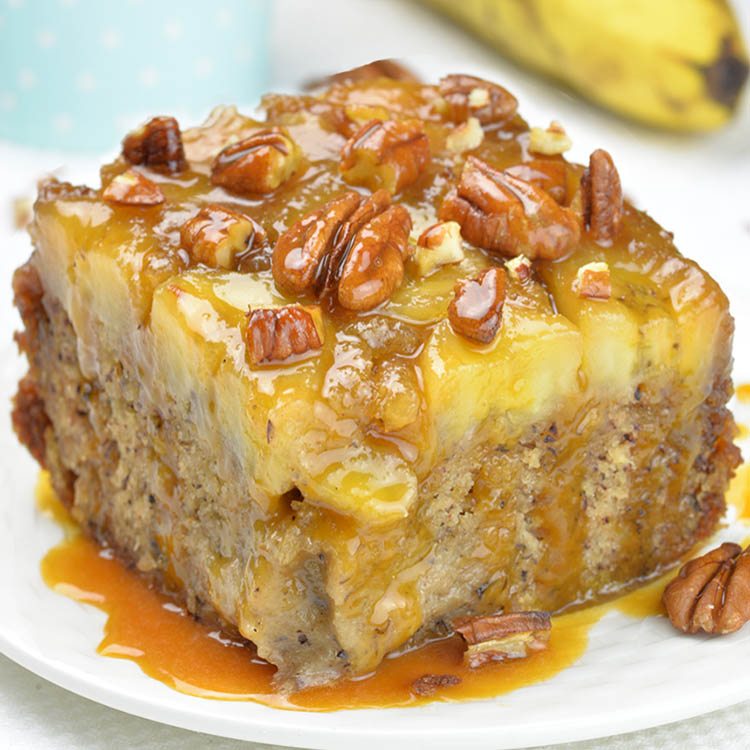 Banana Upside Down Cake is incredibly moist and flavorful dessert, but it could be great breakfast or snack, too. You can't go wrong if serve piece of this cake with toasted pecans and  caramel sauce on top.
This delicious Banana Upside Down Cake has rich flavor thanks to mashed bananas in the batter and a layer of banana slices in caramel sauce on top. This cake could be breakfast! It's rich and dense cake, but very moist at the same time. It's something between bread and a cake.
This recipe starts with creaming butter and sugar, like most of the cake recipe. It should provide light and airy texture, but I combined all-purpose flour and whole wheat flour to make richer flavor and denser texture. It goes really well with caramel and banana.
So in the end, this Banana Upside Down Cake turned out great but resemble to delicious banana bread. To provide moist texture I used plain Greek yogurt, but you could use sour cream as well.
This delicious cake combine banana and whole wheat flour, so you can't ignore the fact that  it is very nutritious. Therefore feel free to eat a big fat slice of this cake for breakfast.
My favorite part is caramel. It matches perfectly with banana flavor. First, there is sticky butter and brown sugar topping that caramelizes as the cake bakes. That's what I love about every upside down cakes.
But there's more of caramel in this Banana Upside Down Cake. When I inverted the cake on the plate I topped it with caramel glaze. It's just simple mixture of butter, heavy cream and brown sugar. This caramel glaze firm up as it cools, so I saved some and reheat it, then drizzle onto each slice.
Also I couldn't resist adding chopped pecans on top. Caramel, pecans and banana go hand in hand. And if you want to make it extra special you can top it with a scoop of whipped cream or vanilla ice cream.
However if you eat it for breakfast, don't overdo it with the topping. After all, breakfast should be healthy.
If you have ripe bananas to make use of, I recommend you this recipe.
Though if you are not a fan of bananas and your favorite part of each upside down cake is sweet,sticky and buttery brown sugar topping, you should definitely check my Pineapple Upside Down Cake. It has triple dose of this yummy goodness. Three cake layer, each top with caramelized fruit. Just imagine how tasty this might be.
Ingredients and Instrutions on Next Page (>)