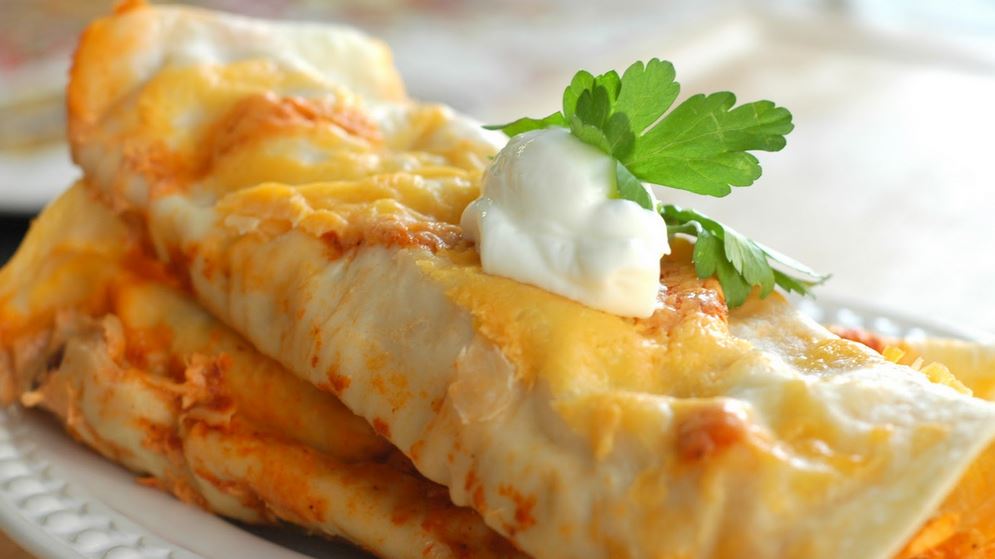 NUTRITIONAL FACTS
2 each: 651 calories, 38g fat (18g saturated fat), 151mg cholesterol, 1392mg sodium, 37g carbohydrate (3g sugars, 1g fiber), 37g protein.
You'll need
1 package (8 ounces) cream cheese, softened
2 tablespoons water
2 teaspoons onion powder
2 teaspoons ground cumin
1/2 teaspoon salt
1/4 teaspoon pepper
5 cups diced cooked chicken
20 flour tortillas (6 inches), room temperature
2 cans (10-3/4 ounces each) condensed cream of chicken soup, undiluted
2 cups (16 ounces) sour cream
1 cup 2% milk
2 cans (4 ounces each) chopped green chilies
2 cups (8 ounces) shredded cheddar cheese
How to make it
Preheat oven to 350°. In a large bowl, beat cream cheese, water, onion powder, cumin, salt and pepper until smooth. Stir in chicken.
Place 1/4 cup chicken mixture down the center of each tortilla. Roll up and place seam side down in two greased 13×9-in. baking dishes. In a large bowl, combine soup, sour cream, milk and chilies; pour over enchiladas.
Bake, uncovered, 30-40 minutes or until heated through. Sprinkle with cheese; bake 5 minutes longer or until cheese is melted.