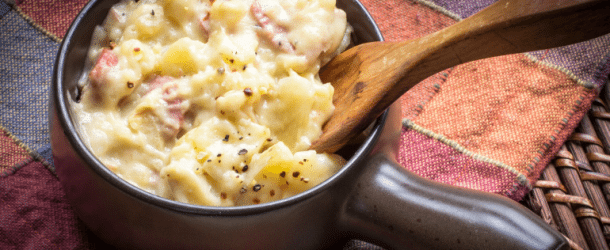 Are you ready to put your slow cooker to good use?
I bet many of you, if you're anything like me, already put that sucker to good use but in case that you don't dust the lid off and get ready to make some fabulous scalloped potatoes. These aren't just any scalloped potatoes; these are cheesy scalloped potatoes with ham. Now, before any of you start yelling at me and telling me that these are Au gratin potatoes just simmer down a bit. I like to refer to these as scalloped because they are scalloped, I just chose to add some cheese ?
Does it really matter what we call our food, anyway? As long as it tastes good we should all be happy, right? Right! These spuds are super easy to make and I love how nicely they cook up in the 'ol Crock Pot.
If you need a dish to pass at a church potluck or family gathering you should really consider making these cheese and ham scalloped spuds. They are hearty, wholesome, and quite filling. Enjoy!
If you are looking for a quick and easy scalloped potato recipe you can stop your search because this slow cooker version is amazing. There are two ways to make these yummy spuds and you see that detailed below in the instructions. I made these cheesy ham and potato scallops the creamier way and I think my eyes may have rolled back in my head just a little bit. Trust me, you bring these babies to a church potluck or family gathering and you'll be the talk of the table!
I tried the creamier version and it was out of this world! Talk about a blast of flavor and texture. Yum!
Click 'Next Page (>)' to keep reading and don't forget to SHARE with your Facebook friends