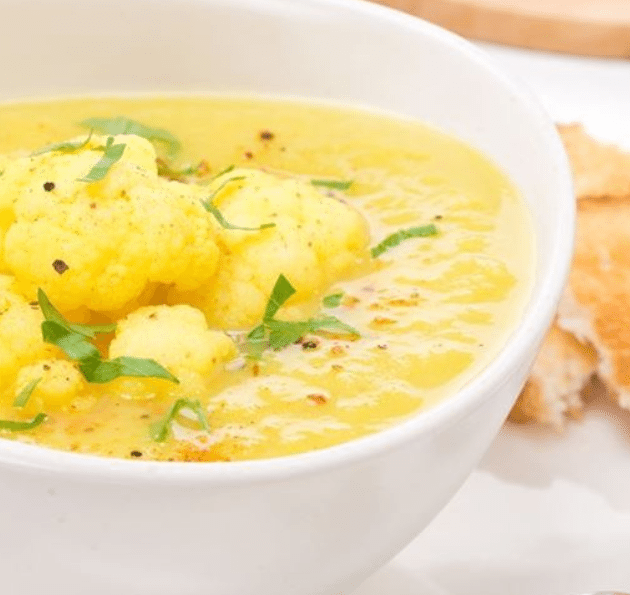 A beautiful curried cauliflower soup infused with the warm spice of curry and the hearty flavors of cauliflower and garbanzo beans, puréed to silky smoothness and topped with browned onions.
Ingredients
1 large red onion, peeled and sliced
1 tablespoon olive oil
1/2 head cauliflower, broken into florets (about 5 cups)
2 tablespoons plus 2 teaspoons Kitchen Accomplice Chicken Broth Concentrate
4 cups hot water
1 tablespoon curry powder
1 can (15 1/2 ounces) garbanzo beans (chickpeas), drained and rinsed
Salt and ground black pepper
2 tablespoons chopped fresh parsley, for garnish
Directions
Add onion slices and oil to a stockpot over medium heat and cook, stirring occasionally for 10-12 minutes, until onions begin to brown.
Add cauliflower, Kitchen Accomplice Chicken Broth Concentrate and water to the pot and cover. Increase heat to medium-high and bring liquid to a boil, then reduce heat so liquid is simmering. Cook 25-30 minutes, until vegetables are soft. Set aside some of the cooked florets to use as a garnish.
Add curry powder and beans and cook another 2-3 minutes. Remove pot from heat. In a blender, purée soup carefully in batches until smooth, and return to the pot to reheat over low heat. Season to taste with salt and pepper.
Portion the curried cauliflower soup into heated bowls and garnish with the reserved florets and a sprinkle of chopped parsley.
source : kitchenaccomplice.com