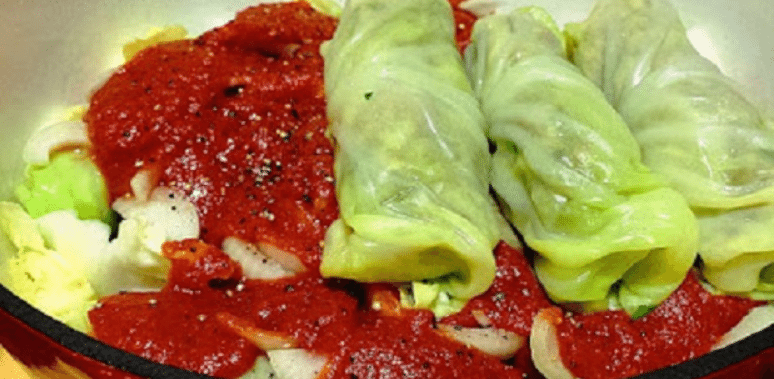 INGREDIENTS:
1 large cabbage (you need the leaves to be big enough to make rolls with)
1 1/2 lb grass fed ground beef (you can sub ground pork for half if you like)
¾ cup basmati/other long grained rice
1 egg
1 stick of grass fed butter, melted
1 cup freshly chopped parsley (loosely packed)
3 large cloves of freshly crushed garlic (I used a whole head of garlic because I LOVE garlic)
1 medium onion sliced thin
1 28oz jar of crushed tomatoes
1 quart homemade beef stock (you can sub water)
1 cup spring water
2 tsp worcestershire sauce (optional but gooood)
2 tsp sea salt
1 tsp freshly ground pepper
½ tsp cayenne pepper ( I used a little bit more)
INSTRUCTIONS:
Take out a nice sized cooking pot and fill it half way with water
Salt it well and bring it to a boil
Turn down the heat to a simmer
While you're waiting for the water to boil, put the ground beef, rice, egg, melted butter, parsley, garlic, salt, pepper, cayenne, and Worcestershire sauce in a large bowl.
Mix until very well combined
Put the meat mixture in the fridge
Now that your water is simmering away, it's time to get the cabbage ready. Make sure you have a large bowl of cool water near the stove to place your cooked cabbage leaves in. Very important!
First cut out the core, really get in there. You want the leaves to come off easily
Rince the cabbage well
If the outer leaves look a bit ragged, feel free to peel them off
Now, taking a pair of tongs, gently lower the WHOLE head of cabbage into the pot of simmering water. It sound a little crazy, but trust me. Magic will happen!
You will quickly notice that the outermost leaf is beginning to soften and magically come off! Let the leaf continue to simmer for about 45-60 seconds
Once the leaf is nicely pliable, take it out with the tongs and place it in the bowl of cool water to hang out for a bit
Keep repeating this process, gently and carefully rotating the cabbage in the pot until all the leaves are done. If you ripped a few, that's okay! We're still going to use them.
Please continue to Next Page (>) for the full list of ingredients and complete cooking instructions.