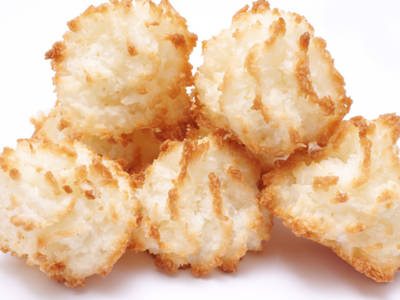 Macaroons originated in Italy between the 1500's and 1700's. They have become popular around the world as cultures have adapted the original recipe. This dairy-free recipe is closer to the traditional coconut macaroons and may be new to many bakers' dessert repertoire. This simple recipe for dairy-free macaroons are coconut-based, although some macaroons use ground almonds instead. They are elegant and fun treats for cocktail hour or as a post-dinner sweet. They take less than 20 minutes to prepare and bake, from start to finish. Feel free to substitute the vanilla or almond extract with other flavorings of your choice; I've had wonderful results with orange and lemon extracts, and during the holidays, peppermint macaroons are a festive idea for any family or company celebration.
Storing Dairy-Free Coconut Macaroons
Dairy-free coconut macaroons will keep at room temperature in an airtight container for up to three days. But refrigerating them after they have been properly cooked for up to 24 hours will help the flavors meld and make them more firm for ease of serving. Be sure to let the macaroons cool before storing them. Metal containers will keep these macaroons crisper than plastic containers. If storing a large batch, layer macaroons between parchment paper.
Freezing and Refrigerating Dairy-Free Coconut Macaroons
Pack the coconut macaroon dough very tightly to ensure a more tender cookie. The dough can be refrigerated for up to a week and frozen for up to six weeks in an air-tight plastic container or freezer bag. Thaw in the container for 15 minutes at room temperature. Pack dough in containers, or shape slice-and-bake dough into logs and wrap. To thaw, place in the refrigerator overnight before re-heating.
Please continue to Next Page (>) for the full list of ingredients and complete cooking instructions.
Source : https://www.thespruce.com