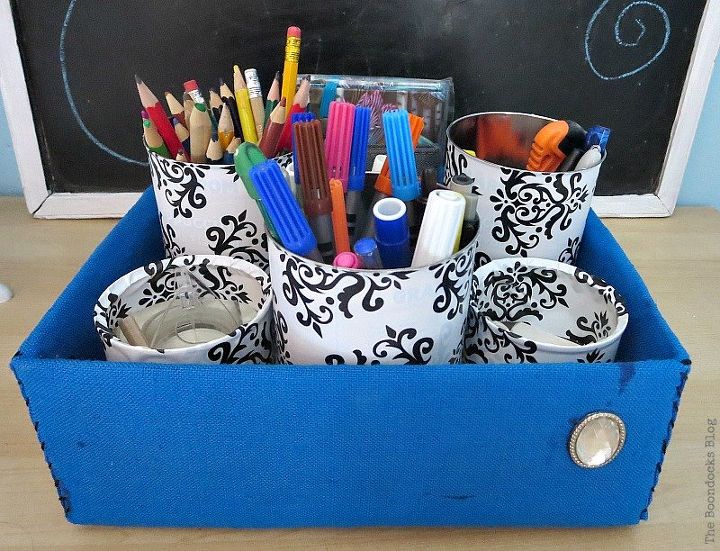 It is almost the start of the school year and the kids desperately need to get ready. That means sorting through the mess on their desk and getting organized. Case in point, this great collection of pens, pencils, and whatnots that are threatening to take over half of my daughter's desk.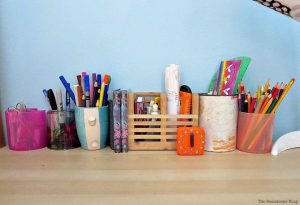 I wanted to corral all these things while keeping the cost down. And I also wanted to do it in a way that would encourage tidy habits.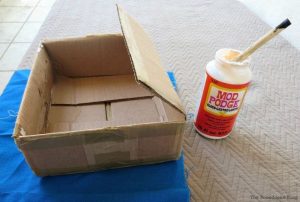 The first step was to find a box . I added this pretty blue fabric with mod podge. Then I took a piece of cardboard and covered one side of it with contact paper. I flipped the cardboard over and inserted it into the box.​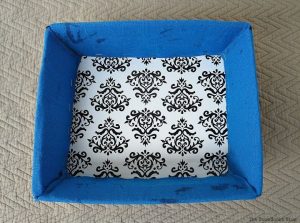 So far so good! But I couldn't just throw all those pencils and pens in there. That would be the lazy person's organization method. Instead I looked around and found these old coffee tins.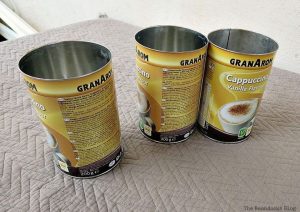 I covered the tins in the same contact paper as the bottom of the box and had this.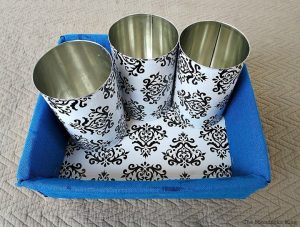 I added all of pencils pens and whatnots​ and this was the result.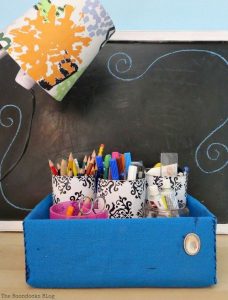 It looked good but I was not entirely happy. You see my goal was to banish the pink in my daughter's room. She is not such a big fan of pink but prefers blue and black and white. This was the final result of the pencil organizer, you can see the details 
here
 .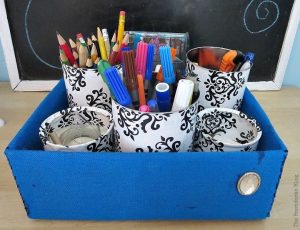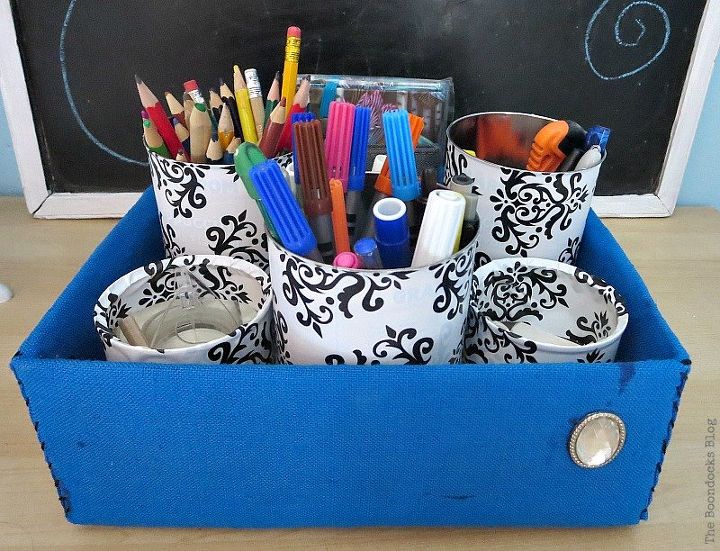 Am I silly to go through all this trouble for some pens and pencils? Well, it sure looks a lot prettier than before and if she needs to move them from her desk in order to dust (you never know it might happen one day) all she has to do is to pick it up in one quick movement. And of course it encourages tidy habits.
I also took the liberty of color coordinating her bookcase to match the blue/black-white theme. You can see that 
here
 . A girl's gotta have style.
In fact, if you'd like to see the whole room, click on the link below. I have included lots of ideas for a teen's room and how to organize it.