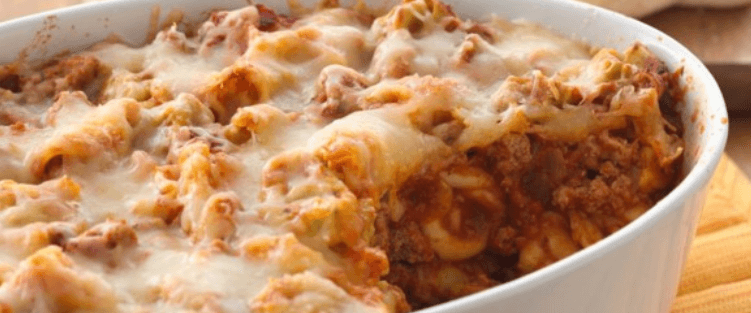 talian dishes always go over well with men and kids, but I am over the usual spaghetti and meatballs. Switching up the pasta type makes a huge difference. I wasn't so excited for Italian night but when I took a bite of this cheesy baked tortellini I was stoked!
Fun pasta, delicious sauce, throw in some cheese and bake it and you have a whole new pasta dish. I served the meal with breadsticks and a huge salad filled with black olives, red onion and croutons. What a great meal; it was like eating out, but in!
Check out what my friends at Pillsbury had to say about this Cheesy Baked Tortellini:
I changed ground beef for ground turkey, made my own tomato pasta sauce (with oregano, basil, thyme, sage, & rosemary), used meat filled tortellini, mushrooms, & added some more mozzarella cheese (12 oz.), also doubled the garlic. Um, Um, GOOD!

I cooked this with breakfast sausage instead of turkey. It gave it a little more flavor. Everyone loved it and we had plenty of left overs.
Please continue to Next Page (>) for the full list of ingredients and complete cooking instructions.