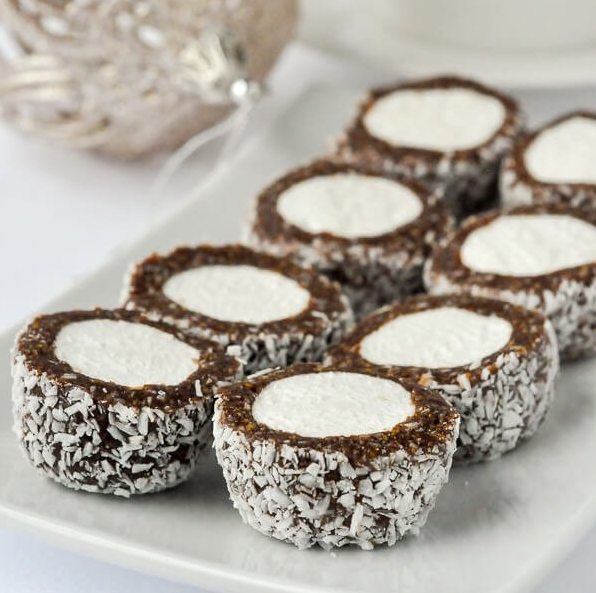 Marshmallow Roll Cookies – easy, no-bake & freezer friendly! These cookie confections will be popular with all ages, especially around the Christmas season.
These Marshmallow Roll Cookies are another treat that you routinely see on trays of Christmas cookies here in Newfoundland. They are popular in local bakeries too, especially those that specialize in popular Newfoundland treats and squares.
They look very much like Newfoundland Snowballs but the soft chocolate outside is even easier to make. This is the same recipe that I use to surround well drained maraschino cherries as well. I sometimes dip those in chocolate or roll them in coconut like in this recipe.
You will also often see this recipe made as a long roll with slices cut off the roll to serve. My method is a little different because I found the roll more difficult to store. The cut marshmallow kept sticking together in the containers and this often led to mangled slices.
My solution was to turn each large marshmallow into its own sphere and then freeze them. When serving, I then just slice halfway through the marshmallow and chocolate ball to create 2 individual portions. Easy peasy and no sticky marshmallows to wreck the look of the cookies.
As a kid, I'd most often see these made with coloured/flavoured marshmallows but those seem to be increasingly hard to find. Kraft Canada, who make the popular Jet-Puffed brand I grew up with as a kid, do not list the jumbo size on their website. just the mini marshmallows. You may be able to find them in another band if you try. The pretty pastel colours do look very appealing on the plate.
Nonetheless, these are still quite delicious with their chewy texture, chocolatey flavour and soft marshmallow centre. Because they are so freezer friendly, they are an ideal make-ahead idea for kids birthday parties or for Christmas treats.
To Find Out All The Delicious Ingredients And The Step By Step Directions To Follow, Please Head On Over To The Next Page.