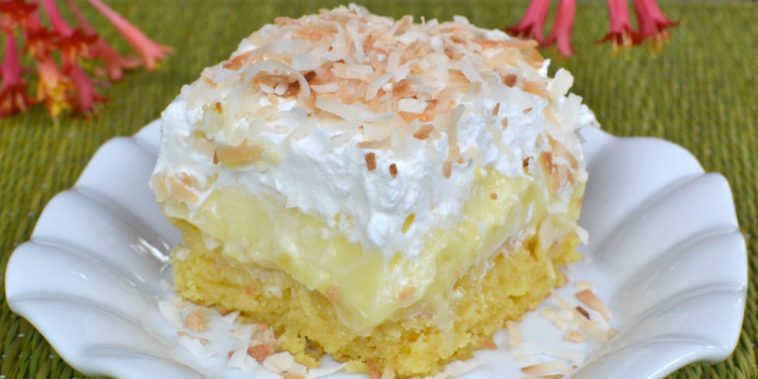 Ingredients
1 box butter or yellow cake mix
2 3.4 oz packages coconut cream instant pudding mix
1 8oz can crushed pineapple – drained, saving juice
4 cups milk
1 cup sweetened coconut flakes
1 16oz container whipped topping or 3 cups fresh whipped cream
1 cup toasted coconut flakes
Instructions
Heat oven to 350 degrees.
Prepare cake mix per instruction substituting pineapple juice from crushed pineapple. ***if there is not enough juice, add water to make 1 cup. Bake according to directions.
Remove cake from oven and using end of cooking spoon, poke holes in cake.
With a hand or stand mixer, beat together milk and pudding mix until slightly thickened. Mix in drained pineapple and cup of coconut. Pour mixture over warm cake, making sure pudding mixture goes into poked holes. Cover with plastic wrap and place in refrigerator until set or minimum of 1 hour.
Spread on whipped topping. Sprinkle on toasted coconut. Serve immediately. Store remaining cake in fridge.