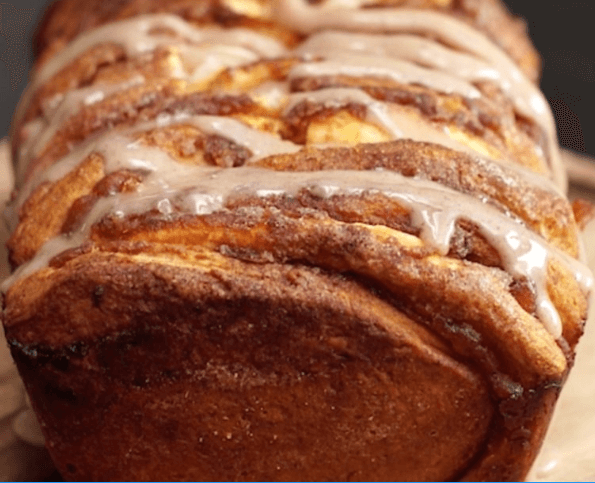 PREPARATION
Preheat oven to 350º F and lightly grease a loaf pan with non-stick spray.
Mix together sugar and 1 teaspoon pumpkin pie spice in a small bowl. Set aside for later use.
Separate biscuit dough into individual biscuits. Flatten out each biscuit, then spread 1 tablespoon pumpkin pie mix on top of each one.
Sprinkle each biscuit with pumpkin spice-sugar mixture, then repeat process, layering each biscuit on top of the next, until you have 4 piles of 5 biscuits.
Stack the biscuits in a row in the loaf pan, ensuring that the sides without filling are on the ends that are touching the pan.
Bake 40-45 minutes, or until biscuits are baked through, and the loaf is deep golden brown. Remove from oven and cool in pan for 10 minutes, then turn loaf out onto a plate or cutting board to serve.
To make the glaze, mix together the powdered sugar, milk, vanilla extract, and remaining pumpkin pie spice in a small bowl.
Drizzle evenly over the warm loaf, then serve immediately. Enjoy
Source: http://12tomatoes.com/shared-pumpkin-loaf