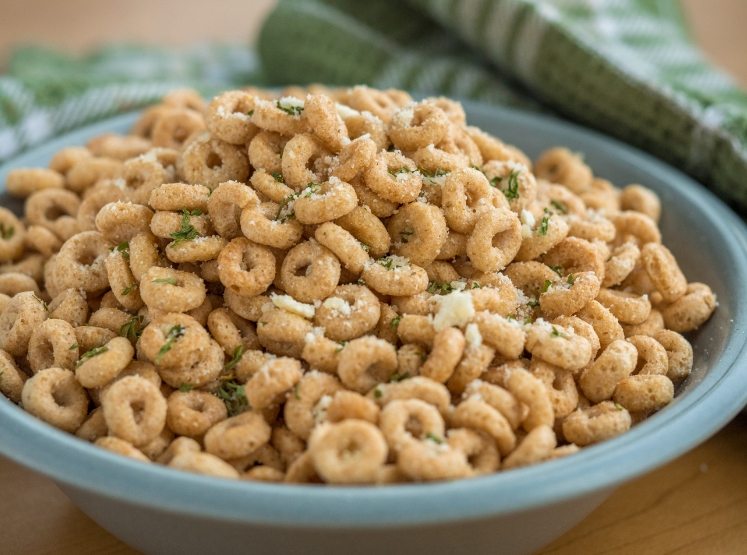 Seriously, cheerios have been around for such a long time – we don't even remember when that bright yellow box didn't exist – it's stood the test of time for so many good reasons! Those little circles are toasty, such a cute shape, and they taste just as yummy with or without milk! Who would have thought such a basic ingredient could make us feel so nostalgic – do you remember eating them (and wearing them at times) when you were a kid? Well, we were also able to make some new memories with this vintage, hot savory buttered cheerio recipe, proving that a certain classic American cereal isn't just for breakfast.
It's so ridiculously easy to put this together and there are so few ingredients. Most likely, you've already got them all at home, but if not no worries! "Butter makes it better," they say, and that is definitely the case here when you melt it down and mix it with parmesan cheese and a few other basic seasonings. After that, it's really about making sure that all of those little O's get their fair shake of coating in dish. You'll want to fold them continuously with the hot, seasoned butter for even coverage and to make sure they don't burn.
That's it, can you believe it? We felt like we struck gold with such a quick, cheap, and easy snack! It's such a nice little update on an old school ingredient that we honestly don't know why we didn't try this sooner! Really, it's done in two snaps and, once cooled, you can store it in plastic bags inside the pantry or freezer for reheating and future snacking – that is, if you don't gobble it all up! This can also make a thoughtful, inexpensive gift – just put it in a pretty cellophane bag or airtight container. The key is keeping some around so… on second thought, you might want to double the recipe! Better safe – and savory with this amazing recipe – than sorry!
INGREDIENTS
4 cups cheerios cereal
1/4 cup (1/2 stick) unsalted butter
1/4 cup parmesan cheese, grated
To Find Out All The Delicious Ingredients And The Step By Step Directions To Follow, Please Head On Over To The Next Page.