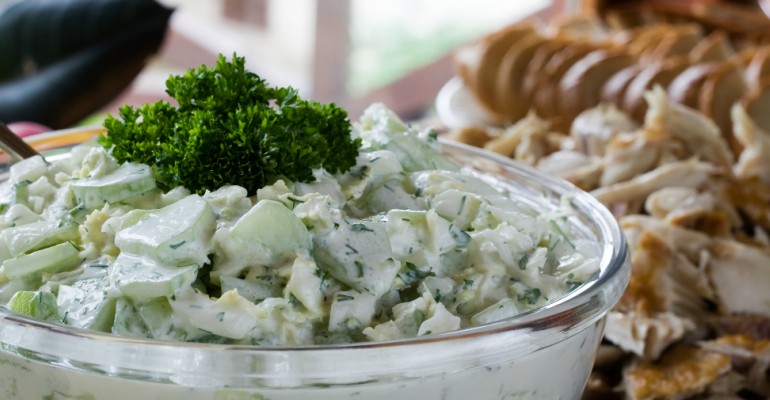 This creamy and easy-to-make cucumber salad is like a bowl full of bliss.
If you ask me, there are side dishes – and then there are side dishes. What does that even mean, you ask… Well, it seems to me that some of the side dish recipes I've come across are really heavy and filling.
You could almost have them as a meal on their own, or at least by adding a single ingredient. That's perfectly fine if you like that sort of thing, especially if your entree is on the lighter side. But what if you are serving something rather heavy for dinner, and would still like to offer a nice side dish to go with it? Sometimes you want to prepare something nice, instead of just tossing a quick green salad on your plate.
This recipe right here is the perfect solution for you. It's just as easy to put together as a green salad (maybe even easier), it's cheap, it's so light you don't have to worry about feeling stuffed – and most importantly, it's delicious! So delicious you'll probably be addicted after your first bite.
I know most people prefer peeling the cucumber before adding it to their salad or other side dishes. I used to do that, too, but these days I kind of like the darker green color mixed in there, so I don't peel them. Either way, this side dish is perfect for pretty much any meal. I've even had it with a cheeseburger and it was out of this world!
To Find Out All The Delicious Ingredients And The Step By Step Directions To Follow, Please Head On Over To The Next Page.