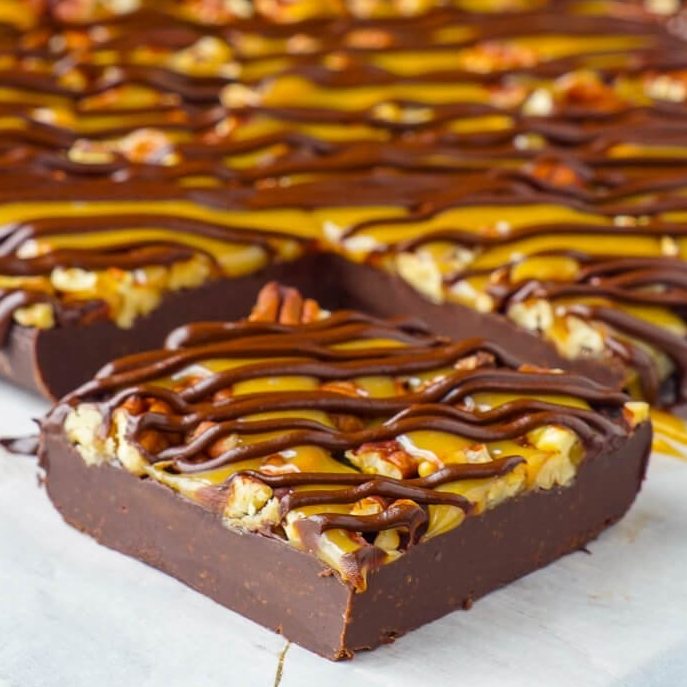 Turtle Fudge – an "Oh So Easy" recipe. A decades old easy and foolproof fudge recipe gets topped by crunchy toasted pecans, melted caramel candy and rich chocolate.
I do tend to get on a roll sometimes when one recipe naturally leads to another, which is how this Turtle Fudge came about after I posted my recipe for Turtle Cheesecake last week. I'm pretty happy that it did; this stuff is pretty fantastic.
Ever since I was a kid, I'd occasionally make fudge from that super-simple recipe on the side of the sweetened condensed can. Perhaps because it is so easy, super smooth, chocolatey and creamy, I've rarely tried other kids of chocolate fudge.
Perhaps though, it is merely a hold over memory from childhood that I like to revisit. I have sort of added a bit of a more adult twist on the recipe using 50% cocoa, dark chocolate chips in the recipe, as my taste in chocolate is now definitely on the dar side.
TURTLE FUDGE FOR HOLIDAY GIFT GIVING.
I was also planning on talking about food gifts for the Holidays, which I love to give and receive myself. Gift giving is hard enough as it is, and shopping amongst the large Holiday crows holds zero appeal for me anyway; I'd much rather give a small present that tells someone they were worth my time and care.
In my younger days I would have thought that homemade gifts, even food gifts, were the cheapskates way out. While I am still known for a bit of a frugal nature, I haven't thought that way in a very long time.
Gifts of homemade jam like my recent Carrot Cake Jam or my favourite Easy Homemade Marmalade or even a pretty package of Old Fashioned Shortbread Cookies are always well received. Time seems to be the most precious commodity in modern life, so if you take the time to slow down and make delicious treats for those closest to you, they will be among the most appreciated of the season.
This Turtle Fudge was very well received by my taste testers and I suspect some may be expecting a second helping in my Christmas care packages this year.
To Find Out All The Delicious Ingredients And The Step By Step Directions To Follow, Please Head On Over To The Next Page.