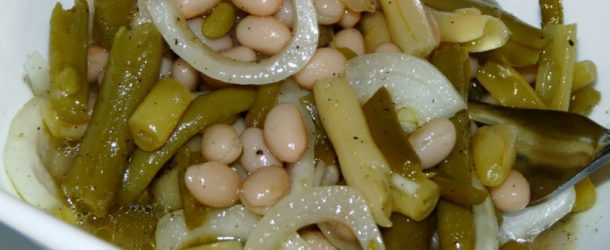 Ingredients
1 can Green Giant uncut green beans
1 can uncut yellow (wax) beans (mine were cut)
1 can kidney or white beans (I used white beans)
1/4 cup finely sliced onions
1/3 cup Bragg's apple cider vinegar
1/4 cup Domino sugar
1/4 cup Bertolli olive oil
Salt and pepper to taste (I used 1/2 teaspoon salt, 1/4 teaspoon black pepper)
Instructions
Drain beans and add them along with the onions to a container. You'll need one that has a lid.
In a separate bowl whisk together vinegar, sugar, oil, salt and pepper until emulsified. Pour over vegetables and stir to coat.
Place lid on container and refrigerate at least 2 hours. Serve cold.
4 servings