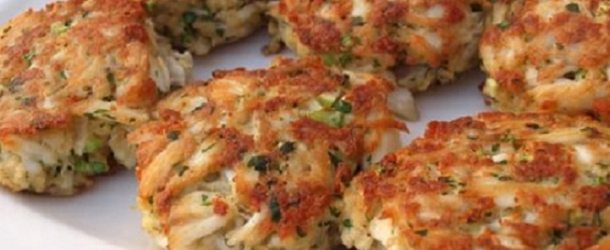 This recipe yields six crab cakes, though I am sure that you could expand the recipe easily if needed.  A single crab cake makes for a nice appetizer for one adult; two can easily make for a satisfying main course, provided you have a few simple sides.  Any simple green veggies will work well with this, as will something like French fries or cole slaw. Check out what my pals over at Once Upon A Chef had to say about these delicious Maryland crab cakes:
When you live in Maryland, eating crabs is a summer pastime: picnic tables covered with brown paper, silver buckets, buttered corn, french fries, cornbread and the unmistakable scent of seafood and Old Bay. It's that time of year, and my mind is already drifting to all those weathered crab shacks at the Eastern Shore, where you can look out over the bay and put your feet in the sand. Is it August yet?
For an extra-special seafood meal, you could pair a single crab cake with a small helping of boiled shrimp.  Though that homemade tartar sauce tastes just lovely, you can substitute that for some cocktail sauce, if you prefer.  Oh, and if you are using jumbo lump crabmeat to make your crab cakes, you may need to break them up a bit before adding it to the rest of the mixture; the cakes won't hold together well if the lumps are too large.
Ingredients
For the crab cakes:
2 large eggs
2-1/2 tablespoons mayonnaise, best quality such as Hellmann's or Duke's
1-1/2 teaspoons Dijon mustard (I went with Grey Poupon)
1 teaspoon Worcestershire sauce (I went with the classic Lea & Perrins)
1 teaspoon Old Bay seasoning
1/4 teaspoon salt
1/4 cup finely diced celery, from one stalk
2 tablespoons finely chopped fresh parsley
1 pound lump crab meat
1/2 cup panko (Progresso makes good panko-style bread crumbs.)
Vegetable or canola oil, for cooking  (I went with LouAna canola for a nice, extra-light flavor.)

For the tartar sauce:
1 cup mayonnaise, best quality such as Hellmann's or Duke's
1-1/2 tablespoons sweet pickle relish
1 teaspoon Dijon mustard
1 tablespoon minced red onion
1-2 tablespoons lemon juice, to taste
Salt and freshly ground black pepper, to taste

Directions
For the crab cakes:
(1) Line a baking sheet with aluminum foil.
(2) Combine the eggs, mayonnaise, Dijon mustard, Worcestershire, Old Bay, salt, celery, and parsley in a large bowl and mix well. Add the crab meat (be sure to check the meat for any hard and sharp cartilage) and panko; gently fold mixture together until just combined, being careful not to shred the crab meat. Shape into 6 crab cakes (about ½ cup each) and place on prepared baking sheet. Cover and refrigerate for at least 1 hour.
(3) Preheat a large nonstick pan to medium heat and coat with canola oil. When oil is hot, place crab cakes in pan and cook until golden brown, about 3-5 minutes per side. Be careful as oil may splatter.
(4) Serve immediately with tartar sauce or a squeeze of lemon.
For the tartar sauce:
Mix all ingredients together in a small bowl. Cover and chill until ready to serve.