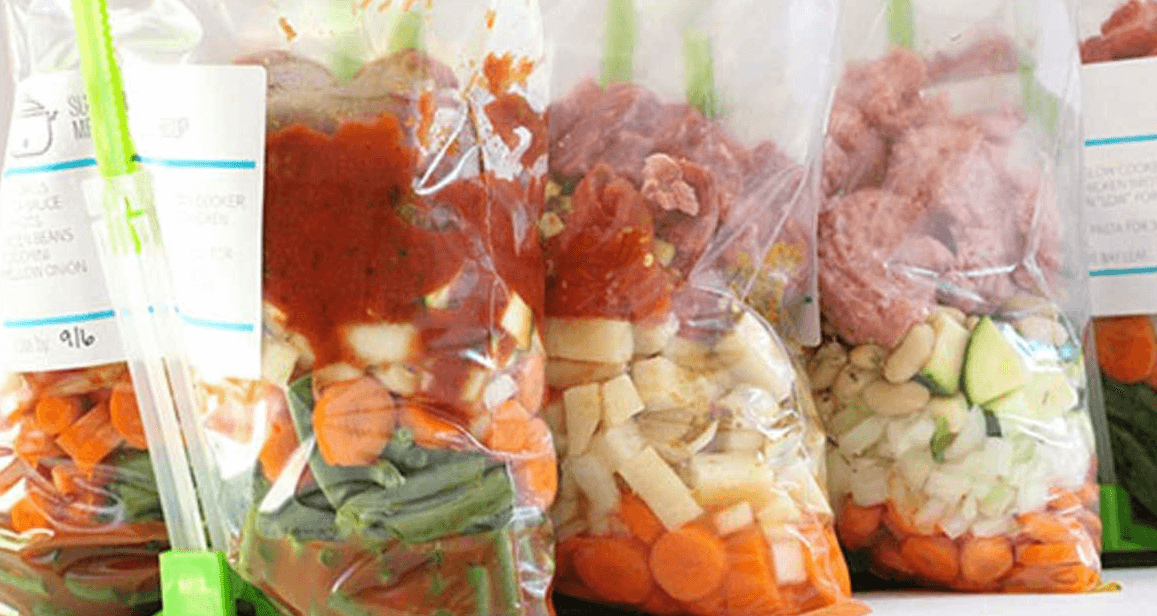 Honey Glazed Chicken
Freeze in a bag:
3-lbs chicken thighs
1 tsp red pepper flakes
1 tsp chili powder
2 tsp paprika
2 tsp garlic powder
1/2 cup honey
2 tbsp apple cider vinegar
salt and pepper
*Coat thighs in dry ingredients before placing in the freezer bag.
Cook on low for 8 hours.
Cheesy Broccoli Soup
Freeze in a bag:
3 cans of cheddar cheese soup
3 cans evaporated milk
1 tsp garlic powder
1.5 tsp pepper
2 onions, chopped
You will also need:
3 bags of frozen broccoli florets (about 40 oz)
Shredded cheedar cheese
Stir together contents of bag and frozen broccoli. Cook on low for 6 hours. Top with shredded cheese before serving.
Chicken Cacciatore
Freeze in a bag:
2-lb boneless, skinless chicken breast
1 jar spaghetti sauce of your choice
1 zucchini, chopped
1 bell pepper, chopped
1 onion, chopped
Cook on low 6-8 hours. Serve over noodles.
**The following recipes call for ground beef. While you can slow cook with raw ground beef, it is highly recommended that you brown them prior to cooking. For a time-saving tip, purchase a large amount of ground beef and brown it all at once. Then separate into smaller bags to freeze for future use it in multiple freezer dishes.
Enchilada Chili 
Freeze in a bag:
1-lb ground beef, browned
1/2 cup brown rice
1 can black beans, drained
1 cup frozen corn
1 can diced tomatoes with green chilies
1/2 cup salsa
1 tsp minced garlic
1 onion, chopped
1 sweet bell pepper, chopped
1 small jalapeno, chopped if desired
1 can (19 oz) enchilada sauce
1 tbsp chili powder
1 tsp cumin
You will also need:
2 cups cheddar cheese
1/3 cup cilantro, chopped
Pour in 3/4 cup water and stir. Cook on low for 7 hours. Stir in cheese and cilantro before serving.
Continue To the Next Page….