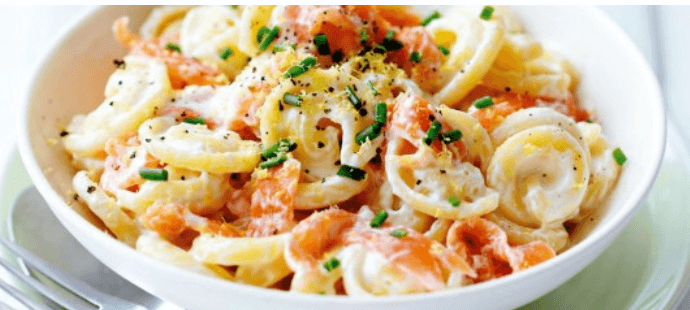 Did you see what I did there with the stream? Don't let the cheesy title throw you off, these are some serious eats. Until now, I've always preferred my salmon just grilled.
Of course now that I've had it wrapped in a creamy sauce with noodles I am a new woman. Plus, my kids aren't turning up their noses because it has pasta. Funny how that works! See if the same thing happens in your house!
While this pasta dish is simple and easy enough for those crazy busy weeknights, I've also turned this into a fancy meal for date night – and for when we've had special dinner guests. You can choose your favorite pasta noodles, and that's actually a really easy way to change things up a little. One time I made this for guests, using "the fancy noodles" instead of my usual elbow pasta… My guests thought it was amazing!
Check out what my friends at Food.com had to say about this Salmon Casserole:
"Great casserole, easy to make with basic pantry ingredients. I did use a little less pasta as I was using up an open box, used a can of Red Salmon and added cracked black pepper to sauce."
"Wonderful recipe. Added fresh, sautéed mushrooms. Yes, need to make extra sauce with added mushrooms. Used Old cheddar on top and mozzarella on noodles."
Please continue to Next Page (>) for the full list of ingredients and complete cooking instructions.