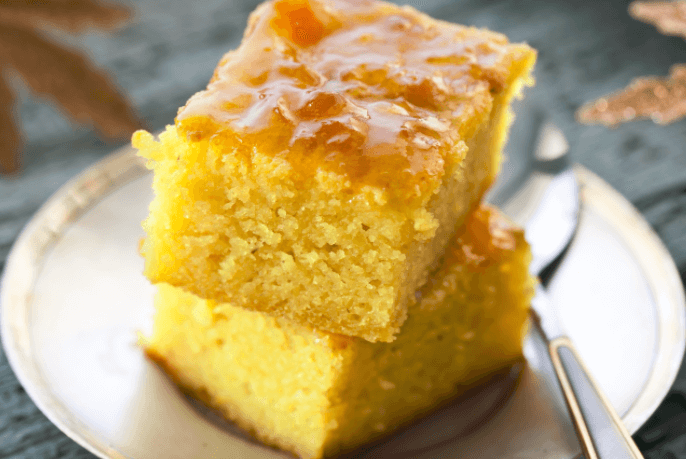 The best kind of comfort food is a little bit rustic, and this cake is a shining example of that. While the crumb is nowhere near dense, the cornmeal adds a one of a kind texture to this lovely little cake and brings it down to an unfussy, homey level. (And don't think for a second that just because it's homey it doesn't taste amazing.)
The cake manages to remain light yet moist and there's this subtle aroma of orange that runs throughout the whole thing that's absolutely wonderful. We've topped it with an easy apricot glaze that adds some nice sticky-sweetness to the top. (And it seeps down and flavors the cake a bit too.) You just heat up some apricot preserves or jam and Grand Marnier on the stove while the cake is baking… and that's it! You can use water instead of the Grand Marnier if you'd like, but Grand Marnier carries that orange flavor from the cake through to the topping as well, which is very much not a bad thing.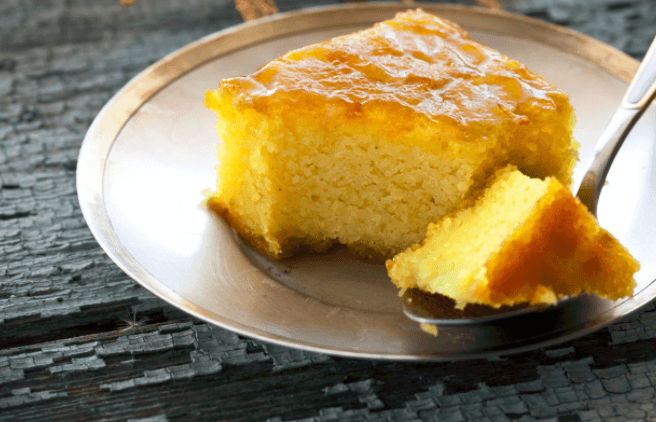 You can bake this in a bundt pan if you wanted, but we like the slice and serve option that a rectangular baking dish gives. It's kind of like cornbread got all gussied up, and let us tell you… cornbread tastes pretty good transformed into a sweet little cake.
Please continue to Next Page (>) for the full list of ingredients and complete cooking instructions.