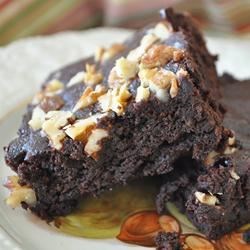 "This was my attempt to make my mom's brownie recipe lower in fat. My family loves them!"
Ingredients :
Prep 10 m     Cook 30 m    Ready In 40 m
Directions :
Preheat oven to 350 degrees F (175 degrees C). Grease an 8×8 inch square pan.

In a medium bowl, stir together flour, cocoa, sugar, and salt. Pour in oil, vanilla, prunes, and eggs. Mix until everything is well blended. Spread the batter evenly into the prepared pan.

Bake for 30 minutes in the preheated oven, or until top is shiny and a toothpick inserted into the center comes out clean.
Nutrition Facts
Per Serving: 129 calories; 3.6 g fat; 23.9 g carbohydrates; 2.2 g protein; 31 mg cholesterol; 37 mg sodium.
Source : www.allrecipes.com