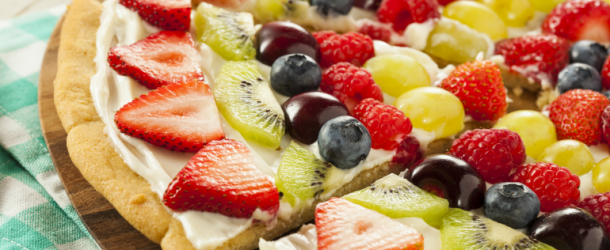 This dessert isn't only easy to make and yummy to eat but it's pretty, too!
Just look at the picture. it's a like a tropical vacation in edible form. I think I might take a close up of my deep dish fruit pizza and make it my computer's background wallpaper. LOL Seriously, though, you're gonna want to make this deep dish fruit pizza. it's really good and it's a bit on the healthy side. Imagine that. A dessert that's actually good for you. This dessert is a win for moms everywhere.
My husband really liked this deep dish fruit pizza, too. I made mine with strawberries and kiwis as those are his favorite fruits but feel free to pile on any fruits that your little heart desires. I think peaches, mangos, and grapes would be a good choice to dabble with.
This deep dish fruit pizza is super simple to put together. You'll be so glad that you made this tasty treat 🙂 I especially love making this fruit pizza during the summer months when the fruit is in season. I always score my ingredients a whole lot cheaper under those circumstances. Nothing beats getting fresh fruit from the farmer's market or an Amish fruit stand.
To Find Out All The Delicious Ingredients And The Step By Step Directions To Follow, Please Head On Over To The Next Page.