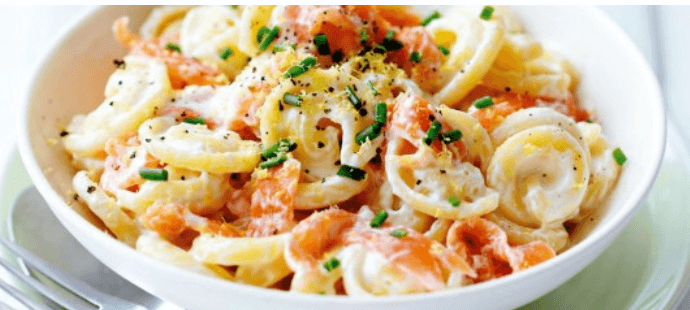 It really is so easy to tweak this pasta just the way you like it! I definitely like to add mushrooms, too, whenever I happen to have them. Would you add something or make it as is?
Ingredients
2 cups uncooked Barilla macaroni
14 1⁄2 ounces canned salmon
2 cups shredded Kraft monterey jack cheese
Sauce
2 tablespoons Land O Lakes butter
1⁄4 cup minced onion
1 tablespoon Gold Medal flour
1 cup TruMoo low-fat milk
1 tablespoon lemon juice
1 tablespoon finely chopped, fresh parsley
Instructions:
Cook macaroni.
Drain salmon; break it into bite-size pieces.
Make Sauce: Melt butter. Saute onion until transparent. Blend in flour, stirring constantly. Slowly stir milk into saucepan mixture. Cook until smooth and thick, stirring constantly. Add lemon juice and parsley. Mix well.
Spoon pasta into sprayed casserole dish. Put salmon on top. Sprinkle with 3/4 cup cheese. Pour sauce over it, and sprinkle with the rest of the cheese.
Bake at 375 for 25 min or until hot and lightly browned.
NOTE: This doesn't make for a lot of sauce. To keep original proportions, double the butter, onion, flour, milk, lemon juice and parsley.