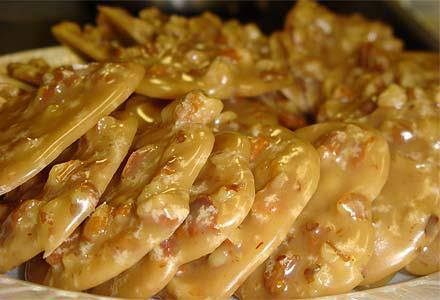 If you want to try pralines it's about time! This is a very old family recipe of southern creamy pralines, the only thing that you should know is that you have to work really fast!
Check it out.
You'll Need:
3 cups of sugar.
1 cup of whole fat buttermilk.
¼ cup of light corn syrup.
1 pinch of salt.
1 tsp of baking soda.
1 tsp of vanilla extract.
4 cups of pecans.
How to:
In a very large pan, mix together the sugar, buttermilk, corn syrup and salt, bring to a boil then add in the soda and stir to cook until soft ball is formed when dropped in cold water, the syrup will reach 235° on candy thermometer.
Remove from the heat, and add in vanilla. Beat until well combined and thick.
Fold in the pecans and stir.
On a very greased cookie sheet drop the batter by tsps.
It's very important to work fast before it hardens.
Simple, easy and yummy! These little goodies are so fun to make, my kids and I adore these delights and it's worth it!