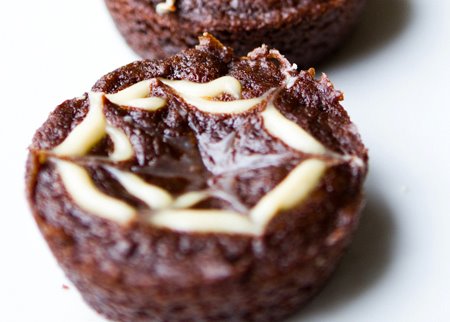 Ingredients
Cream Cheese Swirl
1/2 cup tofu cream cheese
2 Tbsp maple syrup
pinch salt
Brownies
1 cup gluten free baking mix
3/4 cup sugar
1/2 cup cocoa powder or raw cacao powder
1 teaspoon baking powder
Ener-G Egg Replacer for 2 eggs
1/2 tsp salt
1/2 cup vegan butter, softened
3 Tbsp water
dash cinnamon
2 tsp instant coffee
1/2 teaspoon vanilla extract
To make:
1. Preheat oven to 350 degrees.
2. Combine brownie ingredients in large mixing bowl.
3. Pour batter into greased muffin tins.
4. Combine swirl ingredients. Microwave for 20 seconds – or until mixture melts and becomes creamy. Stir well. Remove any clumps.
5. Add swirl sauce to your plastic baggy – cut a small hole out of corner and swirl over top brownies in a thick swirl. The swirl will fade as baking occurs – so a thick swirl is a must. With a toothpick, create web designs.
6. Bake for 15 minutes – or until cooked through. Cool and serve.