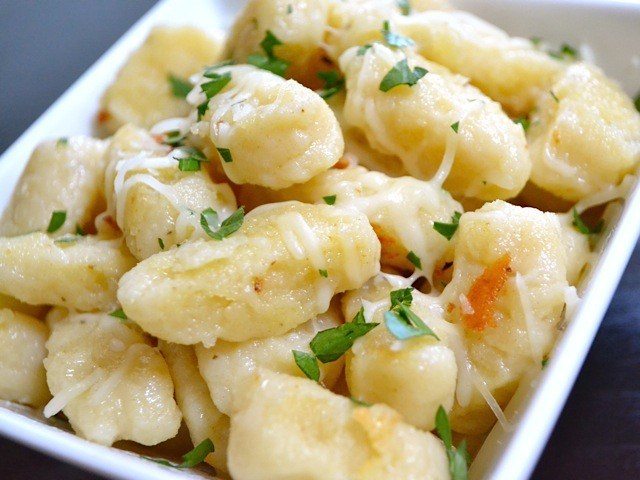 I actually didn't realize at first that this recipe is for homemade gnocchi! How cool is that? I've only been buying the store bought. If it only takes 20 minutes to make my own gnocchi, then I might as well save the money and do it that way. That's so exciting!
Thanks to Beth at Budget Bytes for this festive and fun recipe!
 Ingredients for 20-Minute Ricotta Gnocchi
1 (15 oz.) container ricotta cheese
1 large egg
1 tsp olive oil
approx. 2 cups all-purpose flour
¾ tsp salt
10 cranks fresh cracked pepper
Instructions
In a medium bowl, whisk together the ricotta cheese, olive oil, egg, salt, and freshly cracked pepper.
Add the flour, ½ cup at a time, until it forms a soft sticky dough (about 1.5 cups)
Begin boiling a large pot of water. Turn the dough out onto a floured surface and knead in about another ½ cup of flour or until the dough no longer sticks to your hands. The dough should still be very soft in texture.
Divide the dough into six pieces. Roll each piece out into a rope about 1 inch thick. Cut the rope into 1 inch sections. If desired, roll each piece of dough on the back of a fork to give it a ridged texture.
When the water is boiling vigorously, drop the dough pieces into the water. As the gnocchi boil they will begin to rise to the surface. Once all of them are floating on top, let them boil for about 30 seconds to one minute more to ensure thorough cooking. Drain in a colander.
Check out the original source for this recipe with easy to follow step-by-step photographs and helpful tips as well as many other delicious recipes at Budget Bytes.