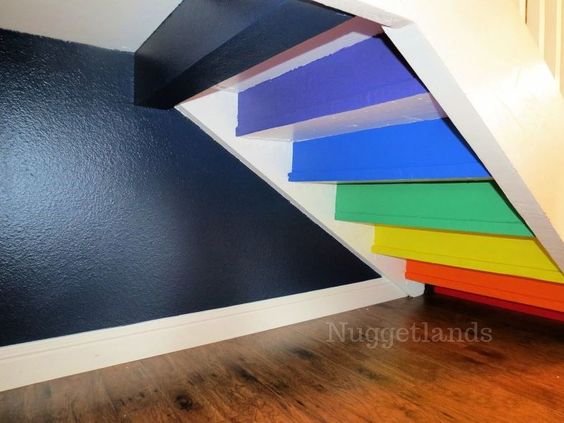 When we first looked at this house, I always thought that the open space under the stairs would make the perfect reading nook for the kids. Fast forward three years and I finally made it happen.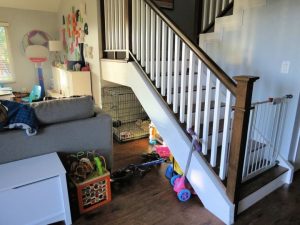 When we bought this house, the lower stairs were open and wrapped in carpet. In fact, the banister was completely different, and completely dangerous for small children, you can see the before pictures here. This space served as a catch all of toys, random storage boxes and the only space for our large dog's crate. That dog is crate trained and if left out while we are gone, will destroy a few of the kids toys as retribution. So the crate has to stay put. It's only been recently that the girls have started playing under here which is what's motivated me to finally make this space more intentional. And fun.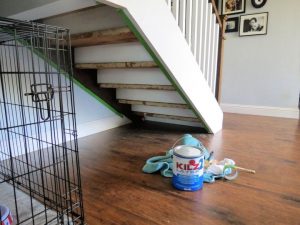 I'm actually surprised that the carpet was even able to be ripped off of these stairs since there were about 5,729 carpet staples under here. I removed them all, patched, sanded and caulked before I used my favorite primer.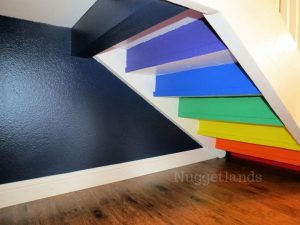 I used leftover navy paint for the walls (mostly SW Naval with a touch of SW Salty Dog from our dining room makeover) and acrylic craft paint for the back of the stairs.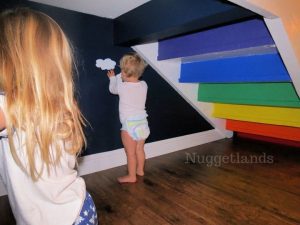 I used these cloud decals and put my kiddos to work. They were so excited to finally be able to help and it took every bit of restraint in my body to no go back and "fix" their cloud placement. It's so fun to include them in the design and implementation of these house projects, especially in a space that is exclusively for them.
I couldn't be happier with the finished product and the girls absolutely love it. I let Big Nugget pick out what pillows she wanted (all from Home Goods). The rainbow curtain is tulle that I wrapped around a tension rod and tucked under the dog crate – I have a video tutorial coming soon to our  
YouTube page
. Make sure to subscribe so you don't miss it!
Head over to the blog to see more pictures and a full list of resources to make your own under stair rainbow reading nook.
source:hometalk.com by Alice Faggi