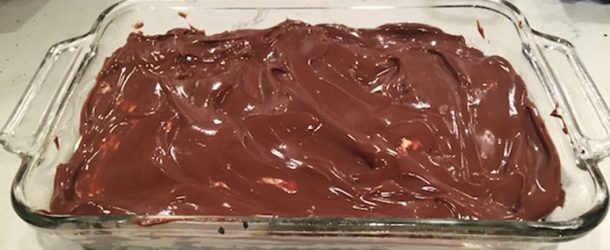 Can You Guess What's Underneath That Chocolate Pudding?
For the past two weeks I haven't been able to think about anything else than Christmas time desserts. It all started when my daughter asked if we could have three different desserts and for some reason I said "Sure!" before I had even thought about it… So now I'm trying to find 3 equally delicious recipes that would be as easy to make as possible!
I have already decided to make this awesome Oreo lasagna from Solo Mom Takes Flight, and I'm actually planning on having my kids make it for me. It's that easy! And it's got 4 different layers of pure deliciousness, so it's a win-win situation, haha!
I don't know a single person who doesn't like Oreos, and when you combine those with a little bit of butter, cream cheese and a couple of other yummy things, you just can't go wrong.
Now that I think about it, I may need to make a test batch to see if I should make two of these lasagnas for Christmas dinner! I know everyone is going to want seconds!
I know people who think a recipe has to be really complicated, with all kinds of fancy ingredients, to be great. But that's not true at all, is it?
Just take a look at this Oreo lasagna, for example. You can probably find all of this stuff in your pantry already – if you don't, you'll find them in any store across the country. Maybe even across the world! Have you made this yummy dessert lasagna recipe already? I would love to hear about it, in the comments below!
Please continue to Next Page (>) for the full list of ingredients and complete cooking instructions.
Recipe and image courtesy of Solo Mom Takes Flight.